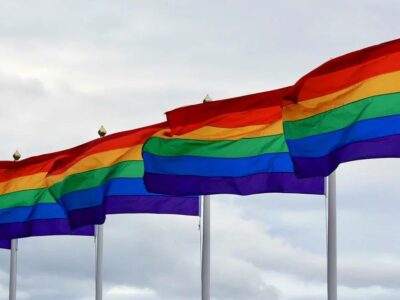 Chick-fil-A Once Again Faces Criticism For Donating To Anti-LGBTQ Charities
After years of being known as unfriendly towards members of the LGBTQ community, Chick-fil-A has now announced that the chain will be cutting donations to charities that oppose same-sex marriage.
Chick-fil-A Fighting An Anti-LGBTQ Image Since 2012
Chick-fil-A, which was founded in 1946 ad the "Dwarf Grill" and ultimately rebranded as "Chick-fil-A" in 1967, is well known throughout the U.S. for their chicken sandwiches. But in 2012, the company's chief operating officer and son of the founder made comments on a syndicated radio talk show regarding same-sex marriage. Dan Cathy specifically stated:

"I think we are inviting God's judgment on our nation when we shake our fist at Him and say, "We know better than you as to what constitutes a marriage". I pray God's mercy on our generation that has such a prideful, arrogant attitude to think that we have the audacity to define what marriage is about."

Following that statement, on the day that the Supreme Court struck down Section 3 of the Defense of Marriage Act, Cathy tweeted:

"Sad day for our nation; founding fathers would be ashamed of our gen. to abandon wisdom of the ages re: cornerstone of strong societies."

These very public statements caused an immediate outcry from the community, politicians, and activists worked to have the chain restaurant banned from college campuses, airports, and other locations due to their anti-LGBTQ sentiments.

By September 2012, the company, with concern over its damaged reputation, noted that they would "treat every person equally, regardless of sexual orientation". In addition to this, they announced that they had stopped working with charities that expressed anti-LGBTQ sentiments except for one – Fellowship of Christian Athletes.

However, recent tax filings showed that donations are once again being made to several anti-LGBTQ organizations, including Fellowship of Christian Athletes, the Paul Anderson Youth Home, and the Salvation Army. Once again, LGBTQ activists are speaking out about the funding the company is providing these charities who are not inclusive to all members of the community.
Chick-fil-A President And COO Speaks About Changes In Donation Policy
Chick-fil-A President and Chief Operating Officer Tim Tassopoulos has publicly addressed the donations made to these anti-LGBTQ charities, saying that moving forward, the company will only donate to charities that center on helping fight hunger, homelessness, and poor education.

How Do I Know If A Charity Is Anti-LGBTQ?
The simple way to learn about a group's feelings towards the LGBTQ community is to ask! A quick Google search will show that there are organizations that keep lists of groups that have expressed anti-LGBTQ sentiments – but even better, you can search for groups that are focused on ending discrimination and inequality!

A few examples of great, LGBTQ-friendly organizations that you can donate to include:
Gender and Sexualities Alliance Network
This organization works to make schools and communities safer for members of the LGBTQ community.
Pride Foundation
The Pride Foundation "envisions a world in which all LGBTQ youth, adults, and families enjoy the freedom to live safely, openly, and genuinely." They work to extend as many opportunities to members of the community as possible.
Human Rights Campaign Foundation
The Human Rights Campaign fights for equality and wants to change the hearts and minds of Americans.

So if you're thinking about making a donation this holiday season, be sure to do your homework about the charities you are giving your money to.