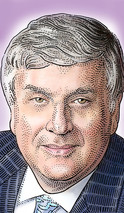 Charity is dear to Ira Riklis' heart. In a recent article by the Wall Street Journal, Ira mentions that he is in the "second stage" of Philanthropy. This Charity blog is to share the accomplishments of 501(c)3s with a much more broad audience. Ira Rilkis is a man who is not shy about giving. Riklis selflessly donates to charities around New York City. His donations are often made in such a way that, with the funds, the non-profit can help themselves succeed. With a sturdy plan and budget like his, Ira Riklis aims to help charities from their launch to the time when other benefactors will lend a helping hand. He has done this with The Metropolitan Council on Jewish Poverty.
Ira Riklis and His Family
Taking on the talented business model of his father, Meshulam Riklis, Ira is the president of the Rapid America Corporation. Upon moving to America, Meshulam Riklis had majored in Mathematics at the University of Ohio in 1940. He analysed the stocks at Piper Jaffray. Once owning significant stocks, he climbed the ladder and is seated as the founder of The Rapid-American Corporation.
Meshulam had 3 children together and had raised Ira to be a businessman as well. Ira and his sisters have lived a very nice life and have neither problems giving to the less fortunate, nor to foundations that really need financial help.
Ira Riklis' Work History
Currently, Ira Riklis is the CEO of Lydia Security Monitoring Inc. dba C.O.P.S. Monitoring.
Previously:
President at Sutherland Capital Mgmt. Inc.
Past Investor at Seguin Partners, LLC
CEO at SNiP Telecommunications
Investor at Asset Alliance
Investor at BuyerLeverage
Board Member at American Committee for the Tel Aviv Foundation
Partner at Charter Sports
Co-Producer at Etz Limon Production
CEO at Matrix Security
Investor at BusTV
President at Ice Cream Ira's Inc.
University of Pennsylvania – The Wharton School
Horace Mann

Great Neck North
Please enjoy this blog and if interested in any charities, never forget how important it is to make someone else happy.
Latest News From Ira Riklis
July 13, 2017- Soccer Star Donates Wedding Leftovers To A Food Bank
This week Ira Riklis highlights donating to food banks and how Lionel Messi generously donated to a food bank instead of wasting his leftover wedding food. Ira mentions:
The soccer star's food donation.
How we can all donate food.
Where to donate and food rescue programs.
July 21, 2017- How The UJA-Federation Of New York Raised $238 Million This Year
Ira Riklis dives into the community and charity efforts of the UJA-Federation of New York and how the organization was able to raise $238. 2 million this year. He includes:
UJA celebrating a century
Bringing in the funds
Volunteer efforts
History of the UJA-Federation of New York
July 26, 2017- One Company Is Setting The Tone For Socially Conscious Corporations
One Utah based company rewards its employees with $2,000 vacations for making small charitable contributions. Ira Riklis explains more about how this program works detailing the following:
Rewards for being socially conscious
Motivations behind charitable contributions
Giving corporate morale a boost
August 3, 2017- The Changing Face Of Hip-Hop And Giving Back
Hip-hop artists are changing the culture from blinging to giving. Ira Riklis highlights some of the work hip-hop artists are doing to give back to different communities. Some of the do-gooders include:
Chance The Rapper helping a city in need
Common and Kanye West coming together to stamp out joblessness in Chicago
2 Chains paying year's worth of rent for a single mother
August 17, 2017- Your Next Glass Of Wine Can Help Someone Else
Love wine? Ira Riklis highlights seven wine events and wineries that will make you love your next glass of vino even more. Here are some wineries and fundraising events that include giving back and good wine:
Wine crawl for charity
Destin charity wine auction
Red Tail Ridge Winery
Newman's Own wines
February 28, 2018 – Super Bowl Champion Chris Long Gives Back
Chris Long of the Super Bowl Championship team the Philadelphia Eagles has a passion for giving back to his community. He has donated his 2017 salary to causes he supports. Ira Riklis covers the following in this week's post:
Long's Commitment to Education
Chris Long's Foundation
Long's Next Fundraising Event
Charitable Teammates
March 29, 2018 – Running For A Cause
Those who run do so for many different reasons. Some run for personal reasons, such as to stay fit, and others run because they want to support a cause. Read about some great charitable runs including:
Blue Cross Broad Street Run
Jingle Bell Run
Cupid's Chase 5K