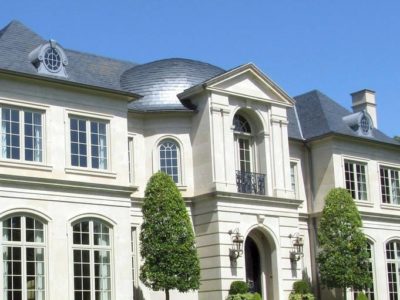 50 Cent Sells Mansion & Donates $3 Million To Charity
In 2013, famous rapper 50 Cent founded the charity organization G-Unity. Now, he's made another outstanding contribution to the foundation.
50 Cent Sells Mansion & Donates Money To G-Unity
In 2004, Curtis James Jackson, also known as 50 Cent, bought a mansion in Farmington, Connecticut for $4.1 million. It was the first major purchase he had made with the money he had earned and he bought it from Mike Tyson.

The mansion sits on 17 acres and boasts 25 individual bathrooms, 21 bedrooms, an indoor pool, gym, night club, and a recording studio.

50 Cent had listed the house on the market for around $18 million but during a listing of "Million Dollar Listing" decided to pull the house from the market and talked about donating the entire home to his charity organization. However, he ultimately changed his mind and sold to an undisclosed seller for $3 million. He has announced that the $3 million will be donated to G-Unity.
What Is G-Unity?
G-Unity is a nonprofit foundation that provides grants to other nonprofit organizations whose focus is providing services and improving the quality of life in low-income and underserved communities in the United States. Specifically, the organization seeks to help support schools and after-school organizations.
Charities Started By Musicians
Many famous musicians have used their fame and fortune to start charitable organizations.
Johnson Ohana Charitable Foundation
Started by Jack Johnson and his wife, Kim Johnson, this organization was started with all of the proceeds from Jack's 2008 tour. The purpose of this organization is to support environmental art and music education.

Jack is also part of a green movement, through which he seeks to reduce the impact that his tours have on the environment. For example, he and his crew only drink filtered tap water – bottled water is off limits. In addition to this, tickets could be purchased to watch the concert live – but online.
The Bama Works Fund
Supporting charitable works in the Charlottesville area, this organization was founded by the Dave Matthews Band. The organization focuses on protecting the environment, disadvantaged youth, and the arts and humanities.

So far, Bama Works has raised more than $8 million dollars.
Jon Bon Jovi Soul Foundation
Founded to help people combat issues the force families apart and into economic despair, the organization was once known as the Philadelphia Soul Charitable Foundation. The group seeks to find ways to disrupt the cycle of poverty and to support underserved communities.
Camp Southern Ground
Camp Southern Ground, which was founded by Zac Brown Band, has a mission which states that their goal is "to operate a camp to allow children to overcome academic, social and emotional difficulties so they may reach their full potential by providing them with the opportunity and tools necessary to become prominent leaders in our society and to achieve excellence in all facets of their lives."

A total of 360 acres in Georgia was donated to establish the camp which is still being built.

These are just a few examples of how those who have made millions from their music have found ways to give back to the community. Hopefully, their actions will inspire others in the industry to take similar steps. Through hard work and caring, our local underserved communities can be helped and made stronger.