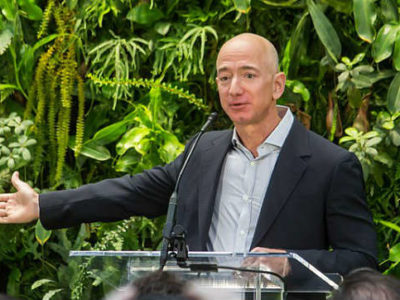 What The Wealthiest Americans Gave To Charity In 2019
With the help of the latest annual report from the Chronicle of Philanthropy, I'll be updating one of my most popular posts from last year to reflect the biggest givers of 2019.
While 2018 saw the world's richest families give a bit less than the year before, that trend appears to have shifted completely, given that fact that 2019 was marked by record-breaking philanthropy – five separate individuals (or families) donated more than $1 billion dollars each. These include:
Michael Bloomberg
Barron Hilton
Eric and Wendy Schmidt
Jim Walton
Thomas Lord
Naturally, many of these donations were made to charitable organizations previously established by the families. For instance, Barron Hilton of the infamous Hotel chain, and who passed away last year, left an estimated $2.4 billion in the hands of a philanthropic foundation originally founded by his father Conrad.
On the other hand, individuals like Michael Bloomberg and the late Thomas Lord, as well as Jim Walton, ear-marked a total of $4 billion in donations to pillars of education.
For instance, Mr. Bloomberg sent a great majority of his 2019 contribution to his alma mater, Johns Hopkins University. Mr. Dalton also donated to arts, education, and parks & rec programs. Lastly, the now-deceased Mr. Lord made it one of his last wishes that more than $1 billion in donations be granted to foundations that support the USC (University of Southern California), MIT (Mass. Institute of Tech), Duke U., and the Cleveland Clinic.
I've mentioned a couple of the top givers of 2019; below is the entire top 10 list, in order, as well as a brief summary of how each made their billions.
Michael Bloomberg, $3,3 billion – made a great majority of his fortune by founding Bloomberg L.P., a financial information software company that in the modern-day is widely recognized for manufacturing Bloomberg terminals.
Barron Hilton, $2,4 billion – now-deceased heir of the Hilton Hotel fortune.
Eric and Wendy Schmidt, $1,3 billion – Eric Schmidt was the former Chief Executive Officer of Google from 2001-2011, arguably one of the company's most important decades. He continues to serve the international brand as Technical Advisor.
Jim Walton, $1,22 billion – the son of Sam Walton, founder of retail-giant Walmart. Jim himself is currently ranked as the 8th-richest person in the world with an estimated net worth of more than $50 billion.
Thomas Lord, $1,04 billion – LORD Corp was a technology and manufacturing company that developed various products for the aerospace and automotive industries, among others. Originally founded in 1919, LORD corporation was sold in 2019 to Parker Hannifin for more than $2.6 billion. It had been predetermined that a large percentage of the sale proceeds were to be donated to foundations created by Thomas Lord to benefit the organizations referenced earlier in this post.
Stewart and Lynda Resnick, $788 million – Mr. & Mrs. Resnick are the genius minds behind an agricultural empire. Their brands include POM Wonderful cranberry juice and Fiji bottled water, among many others known the world over.
Bill and Melinda Gates, $590 million – need I say more about to extensive philanthropic work of the Gates family?
Denny Sanford, $533 million – Thomas Denny Sanford made his fortune through First Premier Bank, which is today the 13th-largest issuer of MasterCard credit cards in the US. However, Mr. Sanford is also widely recognized for his giving nature, and his pledge to donate his entire fortune during his lifetime. The year 2019 proved his intentions to fulfill this pledge are strong as ever.
Pierre and Pam Omidyar, $470 million – Pierre Omidyar, the a French-born student of UC-Berkeley, founded eBay and served as its chairman from 1998 until 2015. It was in 1998, during the initial public offering of the online marketplace, that he 'minted' his first billion. Since then, Pierre and his wife Pam have established the Omidyar Network in an effort to expand their philanthropic reach.
John and Laura Arnold, $350 million – John Arnold made his first millions as a natural gas trade at Enron (yes, that Enron.) His success and the eventual demise of Enron saw him open his own firm, Centaurus Advisors, which itself has found immense success. Beginning in 2008, and with his wife Laura by his side, John founded the Laura and John Arnold Foundation. The Arnolds, too, have signed the Giving Pledge, which would indicate that they intend to give away the great majority of their fortune as their lives progress.
Mega-Donors Limit Tide Of Giving In 2018
We all know that billionaires like Microsoft co-founder Bill Gates and Facebook CEO Mark Zuckerberg should be considered "mega-donors," seeing as they donate millions (or billions) of their own dollars every year to worthy charitable initiatives. But new documentation suggests that the country's wealthiest donors gave significantly less in 2018 than they did the previous year.
In fact, a new study from the Chronicle of Philanthropy tells us that these mega-donors gave only around half to charity in 2018 of what they donated in 2017. Needless to say, we're still talking pretty big numbers here. In 2018, the nation's wealthiest donors gave about $7.8 billion in disclosed donations. But that was a far cry from the number in 2017, which soared to reach around $14.7 billion.
The Top 10 Mega-Donors Of 2018
Below you'll find the top 10 donors from the Chronicle of Philanthropy's Philanthropy 50, an annual ranking of the people who gave the most to charity:
Jeff and MacKenzie Bezos – founder of Amazon – $2 billion
Michael Bloomberg – founder and CEO of Bloomberg, L.P., former Mayor of New York City – $767 million
Pierre and Pam Omidyar – founder of eBay – $392 million
Stephen Schwarzman – Chairman and CEO of the Blackstone Group – $390 million
Steve and Connie Ballmer – Chairman and CEO at Microsoft from 2000 to 2014, current owner of the Los Angeles Clippers – $295 million
Paul Allen – co-founder of Microsoft – $261,432,500
Mark Zuckerberg and Priscilla Chan – founder and CEO of Facebook – $213,598,215
John and Laura Arnold – former hedge fund manager – $204.3 million
Jay Alix – founder of consulting firm AlixPartners – $200 million
Edward Bass – chairman of venture capital firm Fine Line – $160 million
Some of these names will be familiar to you, but others probably won't. According to the Chronicle of Philanthropy, that's a "sign that not all of America's wealthiest are giving big sums to charity every year." In fact, most of the money donated by the Philanthropy 50 comes from less affluent donors. Only 21 of the people who appeared on the Forbes 400 list of the wealthiest in America also appear on the Chronicle of Philanthropy's roster.
Major Contributions From Bill Gates, Mark Zuckerberg Skew 2017 Numbers
Speaking to Fox Business, Lynn Raynault, CEO and co-founder of Segments of One, a firm that works with ultra-high net worth individuals, 2017 was an anomalous year in terms of giving, the highest on record among the megarich since 2008. Also note that major donations from one or two prominent givers can alter the numbers here. "Of the top 50 donors in 2017," Raynault says, "there were two individuals responsible for 50% of the giving. Bill Gates and Mark Zuckerberg collectively gave away nearly $7 billion."
Giving Focuses On Next-Gen Tech
Another emerging trend in mega-donation is what the Chronicle of Philanthropy calls "a focus on the future." Many donors have begun to support projects that promise advances in new technologies, including artificial intelligence. One such donor is Stephen Schwarzman, number 4 on the list, who made his money as a financier at Blackstone. In 2017, Schwarzman donated $390 million to interests in higher education, in hopes of spurring academic institutions to make the US the world leader in artificial intelligence, including $350 million gift to the Massachusetts Institute of Technology.
The Giving Pledge
Also prevalent? An emphasis on giving now, in the present, rather than establishing foundations to outlast a donor's death, in part due to the work of Bill and Melinda Gates, along with Warren Buffett, to convince American billionaires to sign the Giving Pledge, a movement that encourages the wealthy to donate a majority of their wealth to charitable causes. As of 2019, the Giving Pledge has 187 signatories, including Michael Bloomberg, Carl Icahn, Elon Musk, Sir Richard Branson, Arthur Blank and Lynn Schusterman.