10 Ways to Give Back This Fall
As the leaves start to change color and the air becomes crisp, fall is the perfect time to embrace the spirit of giving. There's something about the season that inspires kindness and generosity. Whether it's the upcoming holidays or the sense of community that comes with cooler weather, there are countless ways to make a positive impact this fall. Here are 10 meaningful ways to give back this season.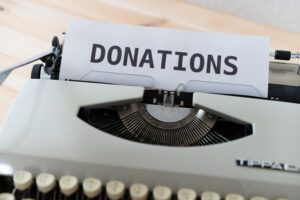 Donate Warm Clothing: As temperatures drop, many people in need are left without proper winter clothing. Go through your closet and gather any gently used coats, sweaters, scarves, and gloves that you no longer need. These items can make a world of difference to someone who lacks the resources to stay warm during the colder months. Look for local clothing drives or shelters where you can drop off your donations.

Volunteer at a Food Bank: Fall is a season of harvest, making it an ideal time to volunteer at your local food bank. Many food banks experience increased demand during the colder months, and your help can make a substantial difference. Whether you're sorting donations, packing food boxes, or serving meals, your time and effort will be greatly appreciated.

Support a Local Farm: Fall is also a time when local farmers work tirelessly to bring in their harvest. Show your appreciation for their hard work by purchasing fresh, locally grown produce from farmers' markets. By doing so, you not only support local businesses but also contribute to the sustainability of your community's agricultural industry.

Organize a Neighborhood Cleanup: Gather your friends, family, or neighbors and organize a neighborhood cleanup day. The changing leaves may create a picturesque scene, but they also create a lot of work. Raking leaves, picking up litter, and cleaning up parks and streets can make your community more beautiful and enjoyable for everyone.

Participate in a Charity Run or Walk: Fall often brings numerous charity runs and walks aimed at raising funds for various causes. Whether it's a 5K to support cancer research or a fun run for a local charity, participating in these events not only promotes physical fitness but also helps raise money for a good cause.

Bake and Share: Fall is synonymous with delicious baked goods like pies, cookies, and bread. Spend some time in the kitchen baking your favorite fall treats and then share them with friends, family, or coworkers. You can also take it a step further by delivering homemade goodies to first responders, nursing homes, or local shelters to brighten someone's day.

Become a Mentor: Giving back doesn't always require financial contributions. Consider becoming a mentor to a young person in your community. Many organizations and schools offer mentorship programs that can positively influence a young person's life. Your guidance, support, and knowledge can make a lasting impact on their future.

Donate Blood: Blood donations are essential year-round, but the need can become even more critical during the fall and winter months due to increased accidents and illnesses. Giving blood is a simple yet incredibly impactful way to save lives. Check with local blood banks or hospitals to find a donation center near you.

Organize a Fundraiser: Hosting a fundraiser is a proactive way to contribute to a cause you're passionate about. You can organize a bake sale, car wash, or even a virtual event to raise funds for a charity or organization of your choice. Engage your community and encourage others to join your efforts.

Offer Your Skills: Everyone has unique talents and skills. Consider offering your skills or services to those in need this fall. Whether you're a photographer who can capture moments for local nonprofits, a musician who can perform at a nursing home, or a handy person who can help with home repairs, your expertise can have a profound impact on someone's life.
In conclusion, fall is a season of change and reflection, making it the perfect time to give back to your community and those in need. Whether you choose to donate your time, resources, or skills, your efforts can make a significant difference in the lives of others. This fall, let's embrace the spirit of giving and work together to create a more compassionate and supportive world for everyone.