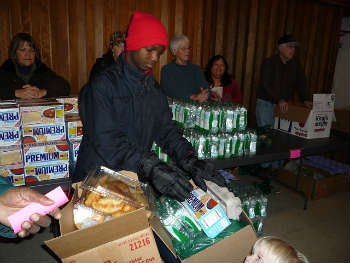 Rosario Food Bank Receives Generous Donation From Soccer Star
Rosario Food Bank received a pleasant surprise from Barcelona forward Lionel Messi who donated all the leftover food and beverages from his wedding. Messi married his high school sweetheart, Antonella Roccuzzo, in their hometown of Rosario, Argentina. Among the 260 people in attendance for the June 30 wedding were Barcelona and Argentina teammates including Neymar, Luis Suarez, and Sergio Aguero. Ira Riklis shares details of this food donation and how to donate to food banks in future.
Soccer Star's Food Bank Donation
The food donation happened after one of the wedding organizers got in touch with the food bank's executive director, Pablo Algrain, about donating leftovers, including snacks, drinks, and alcoholic beverages. Since the food bank cannot give donated alcoholic beverages to institutions, they have contacts who own bars and will buy the beverages, allowing the food bank to transform the donated alcoholic drinks into money that, in turn, allows them to better serve their community.
Not only was the couple generous with their leftover food and drink, but they also asked their guests to donate to Techo instead of buying them wedding gifts. Techo is a non-profit organization that operates in South America and the Caribbean to help impoverished families.
How Can You Do The Same?
It is always nice to hear about celebrities and sports stars donating to a good cause. But, you also have the power to do just as much good. There are many charities right in your community that are constantly helping those in need. These organizations most often operate on donations of goods and money alone and without the help of people like you, would have to shut down. That would mean many families in your community may have to go without the basic necessities of life such as food, shelter, and clothing.
Where To Donate Food Items
Instead of throwing food in the trash to be hauled off to a landfill, think about donating that food to a local food bank. Food banks often feed many families regularly that can't otherwise afford to buy food. So, before you throw away good food, think about the children and other people in your community who would appreciate receiving that food for their next meal.
Food banks receive donated food from many sources and are responsible for redistributing that food to individuals, families and other organizations, such as a soup kitchen, to ensure no one goes hungry. Most food banks tend to collect less perishable goods since they can be stored longer, but they will take perishables and distribute them to those in need.
Food Rescue Program 
Excess perishable and prepared foods can be donated to a food rescue program. A food rescue program will collect the food and distribute it to charities and agencies that feed the hungry. This includes organizations such as food pantries, soup kitchens, youth and senior centers, and homeless shelters. Food preparers from these organizations may visit the food bank each week to select fresh produce and other food items to prepare the meals for their programs.
A food rescue program will also accept direct donations from restaurants, stores, cafeterias, and individuals who have excess food. To find out more about how you can help please visit here.
When you donate perishable and non-perishable foods to your local food bank, food pantry or food rescue program, you are not only reducing landfill waste but most importantly, you are helping your fellow citizens in need who are less fortunate than you. You can take pride in helping others and can be assured the favor would be returned to you if you were in need. So, just remember, you don't have to be a celebrity to do good in your community. Ordinary people make a difference every day.