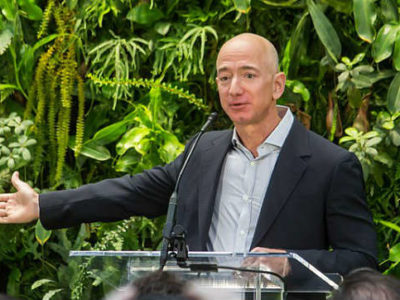 What The Wealthiest Americans Gave To Charity In 2018
Are the nation's wealthiest becoming less charitable? According to a new report from the Chronicle of Philanthropy, the answer to that question is "yes." While billionaires had a very good year in 2018, they didn't share their wealth with as much zeal as they did in 2017.
Mega-Donors Limit Tide Of Giving In 2018
We all know that billionaires like Microsoft co-founder Bill Gates and Facebook CEO Mark Zuckerberg should be considered "mega-donors," seeing as they donate millions (or billions) of their own dollars every year to worthy charitable initiatives. But new documentation suggests that the country's wealthiest donors gave significantly less in 2018 than they did the previous year.
In fact, a new study from the Chronicle of Philanthropy tells us that these mega-donors gave only around half to charity in 2018 of what they donated in 2017. Needless to say, we're still talking pretty big numbers here. In 2018, the nation's wealthiest donors gave about $7.8 billion in disclosed donations. But that was a far cry from the number in 2017, which soared to reach around $14.7 billion.
The Top 10 Mega-Donors Of 2018
Below you'll find the top 10 donors from the Chronicle of Philanthropy's Philanthropy 50, an annual ranking of the people who gave the most to charity:
Jeff and MacKenzie Bezos – founder of Amazon – $2 billion
Michael Bloomberg – founder and CEO of Bloomberg, L.P., former Mayor of New York City – $767 million
Pierre and Pam Omidyar – founder of eBay – $392 million
Stephen Schwarzman – Chairman and CEO of the Blackstone Group – $390 million
Steve and Connie Ballmer – Chairman and CEO at Microsoft from 2000 to 2014, current owner of the Los Angeles Clippers – $295 million
Paul Allen – co-founder of Microsoft – $261,432,500
Mark Zuckerberg and Priscilla Chan – founder and CEO of Facebook – $213,598,215
John and Laura Arnold – former hedge fund manager – $204.3 million
Jay Alix – founder of consulting firm AlixPartners – $200 million
Edward Bass – chairman of venture capital firm Fine Line – $160 million
Some of these names will be familiar to you, but others probably won't. According to the Chronicle of Philanthropy, that's a "sign that not all of America's wealthiest are giving big sums to charity every year." In fact, most of the money donated by the Philanthropy 50 comes from less affluent donors. Only 21 of the people who appeared on the Forbes 400 list of the wealthiest in America also appear on the Chronicle of Philanthropy's roster.
Major Contributions From Bill Gates, Mark Zuckerberg Skew 2017 Numbers
Speaking to Fox Business, Lynn Raynault, CEO and co-founder of Segments of One, a firm that works with ultra-high net worth individuals, 2017 was an anomalous year in terms of giving, the highest on record among the megarich since 2008. Also note that major donations from one or two prominent givers can alter the numbers here. "Of the top 50 donors in 2017," Raynault says, "there were two individuals responsible for 50% of the giving. Bill Gates and Mark Zuckerberg collectively gave away nearly $7 billion."
Giving Focuses On Next-Gen Tech
Another emerging trend in mega-donation is what the Chronicle of Philanthropy calls "a focus on the future." Many donors have begun to support projects that promise advances in new technologies, including artificial intelligence. One such donor is Stephen Schwarzman, number 4 on the list, who made his money as a financier at Blackstone. In 2017, Schwarzman donated $390 million to interests in higher education, in hopes of spurring academic institutions to make the US the world leader in artificial intelligence, including $350 million gift to the Massachusetts Institute of Technology.
The Giving Pledge
Also prevalent? An emphasis on giving now, in the present, rather than establishing foundations to outlast a donor's death, in part due to the work of Bill and Melinda Gates, along with Warren Buffett, to convince American billionaires to sign the Giving Pledge, a movement that encourages the wealthy to donate a majority of their wealth to charitable causes. As of 2019, the Giving Pledge has 187 signatories, including Michael Bloomberg, Carl Icahn, Elon Musk, Sir Richard Branson, Arthur Blank and Lynn Schusterman.