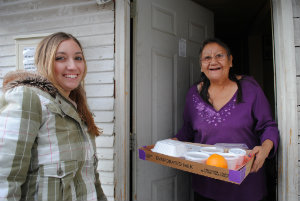 Citymeals On Wheels NYC Serves Up Meals and Friendship
Citymeals-on-Wheels New York City diligently works towards their lofty mission of ensuring that not a single elderly citizen will go one day without a meal. But, if you think that they are just a food service provider, you would be mistaken. The service they provide that has the most impact is that of friendship.
Feeding Stomachs and Nourishing Souls
Since 1981, Citymeals-on-Wheels NYC has delivered over 50 million meals to elderly citizens. In the United States in 2013, 10% of the senior population lived below the poverty line, but in New York City, those statistics are higher. Can you imagine your Mom or Dad struggling everyday with food insecurity? Thanks to Citymeals on Wheels, the senior population across all five of the NYC boroughs is fed daily.
New York City's elderly population is distributed among the five boroughs as follows: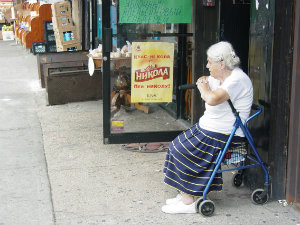 Bronx: 14.4%
Brooklyn: 30.2%
Manhattan: 20.0%
Queens: 29.9%
Staten Island: 5.5%
Delivering meals seems like a wonderful and noble endeavor, but Citymeals on Wheels does not stop there. The volunteers forge meaningful friendships with the seniors whom they serve which enriches the lives of everyone. With the senior population climbing in numbers, Citymeals-on-Wheels recently partnered with The New York City Department for the Aging to add 900 additional meals to the delivery routes.
Most meal recipients are isolated and lonely:
73% live alone
40% rarely or never leave their homes
8% have no one to talk to
Who Does Citymeals on Wheels NYC Actually Help?
Agustin, born in 1913, loves the visits he receives from Citymeals-on-Wheels but admits that, although he still speaks to his daughter often, the meal deliveries are the only real visits he regularly receives.
Terry, a feisty eighty-one year old resident of the Bronx is disabled and when her husband passed away, she refused to stop living. Terry was paired up with her meal delivery friend, Anne, over five years ago and they have developed a long and meaningful friendship that extends well beyond the delivery of meals.
Beatrice is a ninety-three year old Bronx resident who has lived in the same apartment for fifty years. She struggles with her eyesight and has been receiving meals for three years. She has always thought of herself as a picky eater but she eats every bite of her tasty meals. She loves the banter she enjoys with her meal deliverer, which typically centers around current affairs and church.
Click here to read more recipient stories.
Let's Talk Numbers
Most charity organizations have honorable missions; however, the effectiveness of a charity must consider the fiscal responsiblity of the organization as well. Citymeals-on-Wheels NYC relies on the support of donations to continue operating and they maintain that 100% of all donations go directly toward the preparation and delivery of meals. The organization covers all administrative expenses through other revenue channels and reserves every penny of every donation from the general public to the actual meals.
Get Involved With City Meals!
If you think City Meals On Wheels' mission is great and you'd like to lend a hand, there are plenty of volunteer opportunities. From helping with deliveries to elderly persons to forming part of one of their exiting events, there is plenty of ways to get involved with City Meals.
Remember that any time devoted to this wondrous charity is highly appreciated, so don't feel like you don't have enough time to participate and push forward the movement. Helping out once a month or once a quarter is fine. In fact, it's likely that you'll pass on other obligations to devote your time to the City Meals program once you see how fulfilling it is!