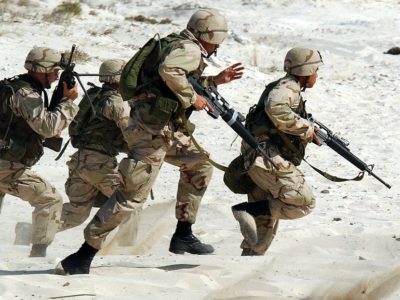 Man Found Guilty In Marine Charity Scam
An ex-Marine will spend time behind bars in federal prison after he was found guilty of pocketing the money he collected in the name of charity.
Former Marine Targeted Marines And Their Families In Charity Scheme
In January 2019, the US Attorney in Charleston, South Carolina, Sherri Lydon, charged John Simpson with wire fraud and arrested him. According to prosecutors, Simpson used his time in the service to scam people into making donations.

Although Simpson did indeed serve in the Marines, he served less than five years and was dishonorably discharged for going absent without leave in 1998. He told others, however, that he was a career marine who had served for 20 years and who was a retired Master Sergeant.

Prosecutors even noted that he went so far as to approach a grieving mother of a fallen Marine at his funeral, using her grief to spark her interest in helping other Marines. That mother helped him collect more than $65,000 in donations and loaned him $75,000 to open a barbershop in her son's name.

The money that Simpson collected was supposed to pay for trips to Disney for Marines and their families as well as boot camp graduations. But prosecutors say that only about $90,000 of the nearly $500,000 that was collected was actually spent on other Marines. Instead, Simpson used the money to pay off his mortgage, bills, and fund his then wife's shop.

On Monday, July 22nd, 2019, Simpson pleaded guilty to the charges and was sentenced to four years in federal prison. He will serve this sentence consecutively after a nine-year sentence for burglary and sexual assault. Then he will be on three years of supervised release.
How Can I Tell If A Charity Is Legitimate?
Before donating to any charity, it's important to take steps to make sure that the charity is legitimate. This includes:

Using A Database: Check to see that the charity is listed in a database, like the IRS Nonprofit Charities Database or the Charity Navigator database. 
Making Sure Donors Can Donate Securely: Don't give your credit card information over the phone and don't fall for cash only requests. 
Ask If You A Non-Monetary Donation: Food, clothing, and items for personal hygiene are always needed – ask if you can provide these goods instead of money. 
Be aware of anyone who approaches you in an odd place – like a funeral. If something doesn't feel right, it probably isn't.
Legitimate Charities For Armed Forces
If you are seeking to make a donation to a charity that is focused on helping the armed forces, consider one of the following:

Air Force Aid Society: This charity helps to relieve the financial distress of Air Force members and their families.
Mercy Medical Angels: This organization helps provide transportation to qualify individuals who need to travel for medical treatment.
Freedom Service Dogs Of America: If you're a dog love, consider donating to Freedom Service Dogs Of America, an organization that trains assistance dogs for veterans and active military.
There are hundreds of legitimate charities that can be found on the Charity Navigator website – have fun finding the right charity to donate to!